Road haulage
A lot of intra-port container trucking is done within the port causing additional congestion to the already existing bottlenecks on the roads.
read more

The Port Feeder Barge is designed to shift intra-port haulage from road to waterway. Due to its own container crane the Port Feeder Barge is capable of transferring containers between the terminals independently from the costly quayside equipment.

Compared to trucking the Port Feeder Barge can provide intra-port box transfer ...

at competitive costs,
faster for a huge number of containers at the same time,
for oversized containers,
more environmentaly friendly,
much safer,
without requiring personnel from the terminal,
even if terminal gates are closed.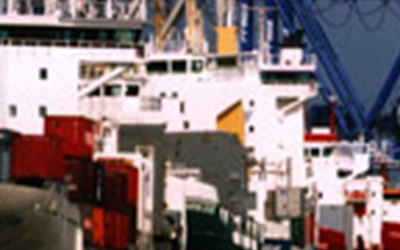 Feeder operation
Not only in Hamburg, feeder vessels need to call at several different terminals where their customers are berthing.
read more

The Port Feeder Barge can distribute and collect the feeder boxes to/from the various terminal quays enabling the feeder vessels to concentrate on the major terminals only. Hence the time consuming, costly and risky operation of vessel shifting within the ports can be significantly reduced.

In order to avoid exessive vessel shifting feeder lines are already an important employer for intra-port box transfer by truck.
Inland navigation
Valuable berth capacity for deep sea vessels should not be blocked by the small inland waterway vessels.
read more

Like feeder vessels, they waste much time by hopping from terminal to terminal but carry even less boxes! Moreover loading/discharging the small vessels with the huge gantry cranes is not adequate.

Transhipment of ocean boxes to inland waterway vessels can be fully delegated to the Port Feeder Barge at a central inland navigation berth. For ship-to-ship transfer operations a quay is not even required. Direct box transfer between the Port Feeder Barge and inland waterway vessels can even be performed midstream at the dolphins.

Ocean terminals will be released from their obligation to serve the inland waterway vessels which in addition will benefit from a considerably reduced port stay.